The CCC is a non-profit organization which exists to encourage the art of choral singing while helping to serve those in the Greater Olympia, Washington community.
Centered around standard choral repertoire, we believe in improving the musicianship and abilities of our singers, as well as providing free concerts to the community.
We welcome all to our concerts, and we welcome all to audition and sing.  We do not discriminate based on age, race, ethnicity, creed, color, national origin, sexual orientation, gender identity, marital status, or the presence of any sensory, mental, or physical disability.
About the Director: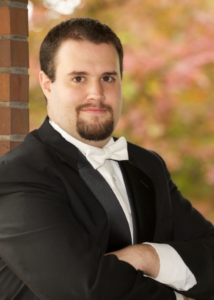 Dan Colgan is a graduate of Westminster Choir College in Princeton, NJ.  He has served as the Organist and Director of Music at Gloria Dei Lutheran Church in Olympia, WA since November of 2010.  He is also the voice instructor at Centralia College, the Dean of the Olympia Chapter of the American Guild of Organists, and the director of the men's ensemble, "Forza" of the Olympia Youth Chorus.  He also served as the assistant director of the Olympia Choral Society from 2012-2018.  Before relocating to the West Coast, he served as Director of Music at Redeemer Lutheran Church in Jamison, PA from 2005-2010.
During his time at Westminster Choir College, he studied organ with Ken Cowan, Diane Belcher, and Matthew Lewis.  He studied voice with Scott McCoy.  He toured the United Kingdom, Italy, and the United States, where he accompanied the Westminster Chapel Choir on organ.  As an alumni of the world renowned Westminster Choir, he has sung and worked with many influential conductors, ensembles, and soloists.
During his High School years, he founded the Poultney Area Community Choir (Poultney, VT), and directed the Poultney United Methodist Church Choir and the Poultney Area Community Choir from 2000-2004.
Dan also currently maintains a studio of private voice and organ students.  When not being musical, he enjoys spending quality time with his partner Nick, entertaining his dog Bazil, watching the Boston Red Sox win games, playing racquetball, watching it rain, and brewing his own beer.
Dan is quite excited to begin this new musical journey with this choir!